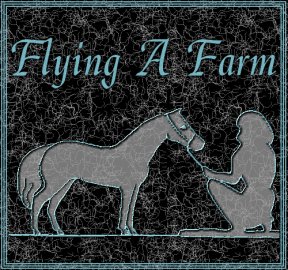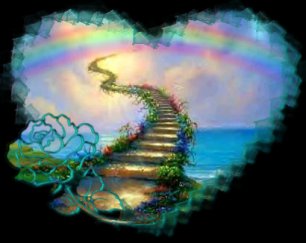 When the idea for this page came about, I wondered if it would be too sad for people to enjoy viewing. But as I gather together the photos of these loved ones, they bring back the memories of love, life and hope that each of them brought into our lives. I hope you enjoy meeting our dear friends and reading their stories.
To those we have loved and lost...
...you made our lives better by your presence.
You showed us unconditional love, joy and made us richer with the gifts you shared, no matter how short your time on this earth.
Although our hearts ache with you gone, they overflow with the depth of the legacy of your love.
Goodbye dear friends and
until we meet again....
...Wind to thy wings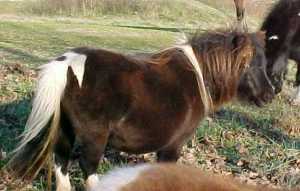 Hawk Rise Magic Dove, "Dovey"
We were honored to be able to add this lovely little 28.5" black & white mare to our herd several years ago. She began our "Can She" line of amazing show horses, including her daughters Flying A Magic's Can She Dance, Flying A Magic's Can She Can Can, Flying A Magic's Can She Cha-Cha and her last foal, a colt named Flying A Magic's Do You Wanna Dance.
Dovey was a gentle, amazing little mare who blessed us all with her easy going way and loving nature.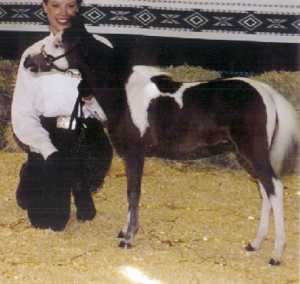 Flying A's Thief Of Hearts, "Rory"
This youngster began it all, out "Hearts" line of show horses. All later foals from his dam and sire carried the HEART name, thanks to one amazing little colt who grew into a stunning stallion.
Rory was owned by Rich and Rita Lindahl at the time of his passing, due to an accident from outside cause. They were as devastated as we were by his loss. His memory is carried on by his brothers and sisters....and the three foals he sired.

Dennis' May. "May"

How do you describe a mare so amazing that we bought 15 horses, just to convince her owner to let us buy her? We had to buy his entire herd before he would sell us this one, absolutely lovely, mare. We already owned one of her daughter (Dennis' Little Snip) and we knew we HAD to have her dam!

Her first foal for us was Flying A's Maybe Indigo and things just got better every year. We miss May every day, but her spirit is still with us in the blessing of her babies and grandbabies.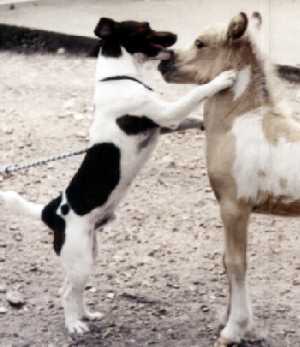 "Sahara"
Sahara was a minimal dwarf mare that we raised, loved beyond reason and decided to donate to Personal Ponies when she was 2 years old. She blessed our lives and the lives of hundreds of special needs children as the "spokes-pony" for the organization, showing them that even if you're not perfect physically, you can achieve great things.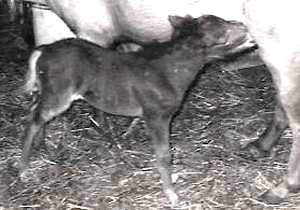 "Reba"
...the sweetest little girl. Reba was only 2 months old when her Dam tragically had to be put to sleep. Little Reba was adopted and nursed for 2 more months by our aged palomino mare "Fancy". It was a true love story and a coming together of two souls in need, as Fancy (age 29) had recently lost her foal at 9 months gestation.
We lost Reba, a healthy, bouncing weanling, at 5 months of age, due to complications from acorn poisoning. A condition we had never encountered, but that took the lives of several of our precious foals before the cause was discovered :*-(

Flying A's AnythingYouCanDoICanDoBetter, "Bam-Bam"
Bam-Bam was our second linebred foal, out of two of our favorite horses sired by "Magic". This gorgeous and TINY colt was everything we had hoped for. As his name suggests, we had incredible hopes for him as a show horse and future herd sire. He was one of the foals tragically lost to acorn poisoning.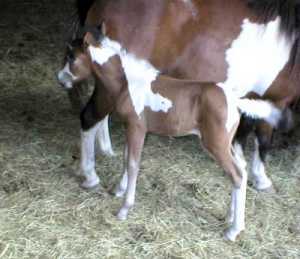 "Peekaboo"
2003 filly out of Dennis' Little Snip. The gorgeous filly sadly was only with us for 3 days. She was the last foal out of Snip and Schrandt's Sunny Side Up. She was the filly we had dreamed of for years from this cross.