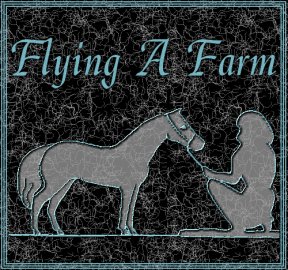 Flying A Farm is located in the NW corner of scenic Arkansas, near the beautiful tourist area surrounding Eureka Springs. We are within 2 1/2 hours of Tulsa, OK and Branson, MO. This area is a hub of tourist activity and year round incredible scenery! Flying A Farm West, Laura, Steve and Mia's new farm is located at Canehill, AR, just southwest of Fayetteville.
Flying A Farm is a small, three generation, family run farm. Please visit Our youngest family member Mia's photo page to see how miniatures and ponies may be enjoyed by all members of the family!
We specialize in OVERO, APPALOOSA and TOBIANO halter and performance miniature horses registered with AMHA, AMHR and PtHA and ponies registered with PtHA and ASPC.
We have been honored to breed, raise and train many, many National and Reserve National Halter, Color and Futurity Champions during the last thirteen years. A few select outside horses are accepted into our show string for training and have been very, very successful.
We prefer to show our horses as weanlings, yearlings and two year olds. They are then retired to enter our breeding program. We rarely show senior horses, with the exception of phenomenal show geldings.
We look upon our show geldings as advertisements to the quality of the stallions we retain for breeding and offer for sale. If you like our geldings...you'll LOVE our stallions. To this end, most of our geldings are priced very reasonably to show homes. They are proudly representing our farm in show rings all over the United States.
When you visit Flying A Farm, you are able to see, touch and become familiar with up to four generations of our equine family. Our horses and ponies are bred for conformation, color, personality and well known bloodlines...in that order. They have a consistently friendly and inquisitive personality that is most definitely people oriented.
If you are seeking a standoffish or reserved horse, you probably will not find it here at Flying A Farm. Our horses are raised to be loving companions as well as National level show winners. These are horses that can be enjoyed inside AND outside of the show ring. All foals bred & born at Flying A Farm will be eligible for the AMHR Futurity.
Visitors are always welcome. Appointments are preferred, as we travel often and want to make sure we are home for your visit!
Barbara, Laura, Steve and Mia